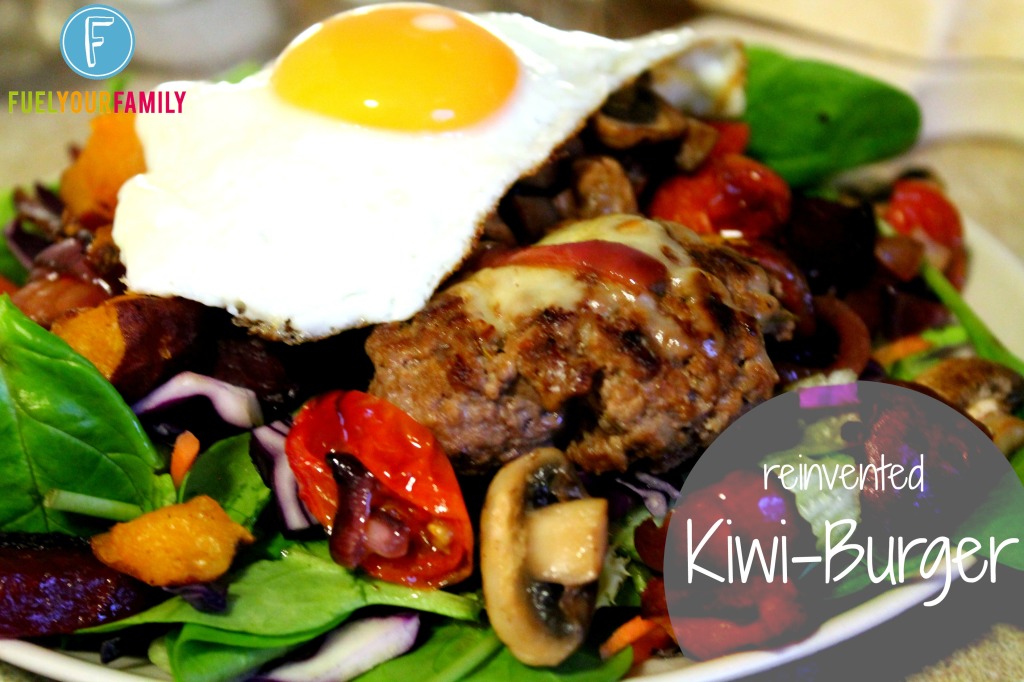 If you lived in New Zealand at all during the 1990's, I am sure just hearing 'kiwiburger' sparks memories, and a tune instantly jumps into your head…
Kiwi's love hot pools, rugby balls, McDonald's, snapper schools, world peace, woolly fleece…
If you didn't, or you are just feeling nostalgic, you can watch the original advertisement for McDonald's KiwiBurger.  The KiwiBurger was created by McDonald's for the New Zealand market as a nostalgic take on the burger's enjoyed by Kiwi's (the affectionate term for New Zealander's) from every local fish and chip shop.
For those in the UK you may have eaten a Kiwiburger from Gourmet Burger Kitchen (GBK), a gourmet burger chain that was opened in London in 2001 by a few New Zealander's.  GBK is now owned by Capricorn Adventures, and there are over 60 restaurants across the UK.  There is a subtle Kiwiana theme in the restaurants and on the menu – and the Kiwiburger still features.
Growing up I remember Mum making homemade hamburgers for dinner, along with hand cut potato chips in the deep fryer (memories of chips soaking in water – I believe to reduce the starch – then patting them all dry on paper towels before adding them to the deep fryer).  Her burgers were the absolute best, with meat patties made from mince from a beast on my uncle's farm, stored in one of two large chest freezers in the garage.  Every year Mum grew and bottled beetroot, enough for the whole year.  I doubt she has ever bought tinned beetroot in her life.  Sliced beetroot always went on our burger, along with a slice of the large beef-steak tomatoes she grew (and made into soup and sauce), a fried egg, lettuce (from the garden) and a slice of cheese.  I remember buying cheese in what was probably 5kg blocks.  As a family of 7 there were certain economies of scale.
My version of the Kiwiburger is bunless, but of course feel free to put it all into a lightly toasted burger bun and wrap your laughing gear around it, or serve on whatever salad ingredients you have to hand.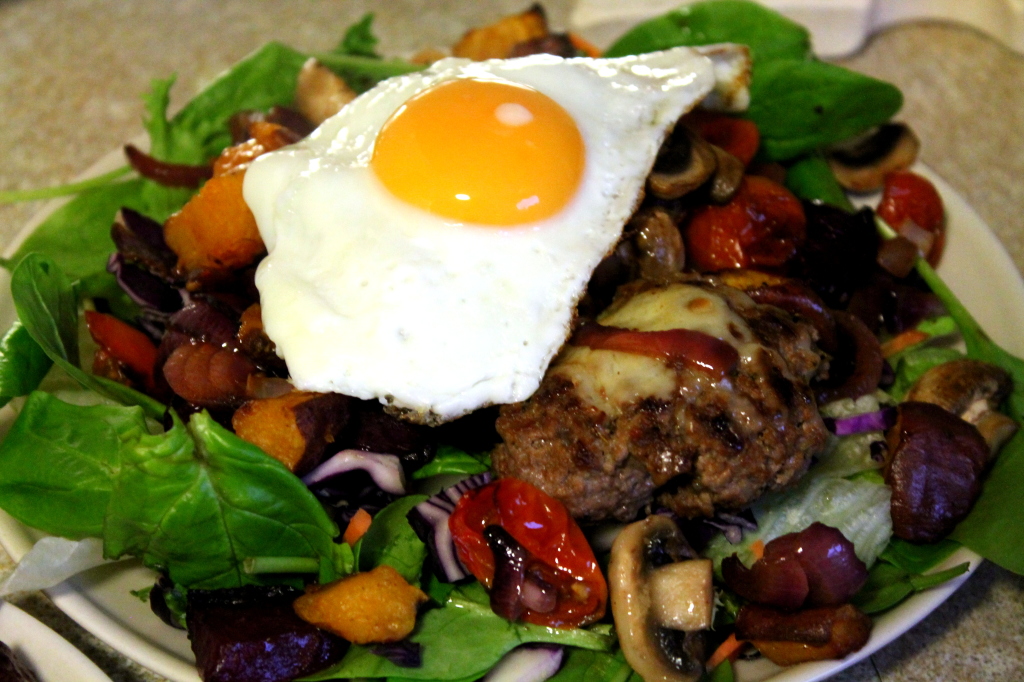 Kiwiburger
Reinventing the Kiwi classic burger - a firm family favourite in our house
Author:
Bronwyn Hudson - Fuel Your Family
Ingredients
500g beef mince
1 onion, finely chopped
2 cloves garlic, crushed
2 Tbsp fresh chopped parsley or other herbs
salt and pepper
OPT: 1 slice of mature cheddar cheese per burger
2 red onion, cut into 8th's
2-3 medium beetroot, peeled and cut into 2cm cubes
2 small-medium sweet potato, skin on and scrubbed, cut into 2cm cubes
1 large handful cherry tomatoes, halved
1 large handful of mushroom, wiped and halved
1 Tbsp coconut oil
1 Tbsp olive oil
1 tsp balsamic vinegar
1 egg per person
salad greens, cabbage, spinach etc to serve
sauerkraut to serve
Method
First prepare your burger patties
In a large bowl combine the mince, chopped onion and crushed garlic, fresh herbs, salt and pepper.
Mix with your hands, and then shape into the required number of burger patties.
Place in the fridge to firm up.
Turn the oven on to 180C to preheat while you prepare your red onion, beetroot, sweet potato, cherry tomatoes and mushrooms.
Into one roasting dish or oven tray place the red onion, beetroot and cherry tomatoes and drizzle with olive oil and balsamic vinegar.
In the other place the sweet potato/kumera and mushrooms along with the coconut oil.
Place both in the pre-heated oven to cook, turning over occasionally and removing when they are done - around 20-25 mins.
While they are cooking you can cook your meat patties.
Heat up a frying pan/skillet to medium-high temperature, melt a little coconut oil in the pan and place you meat patties in.
Brown on one side, then flip over, add the slice of cheese on top and cover till cooked through and the cheese has melted.
Plate it all up with your salad greens going on first, topped with sweet potato, beetroot, mushroom, tomato and onion, a large scoop of sauerkraut, then your burger patties, and complete by with an egg on top.