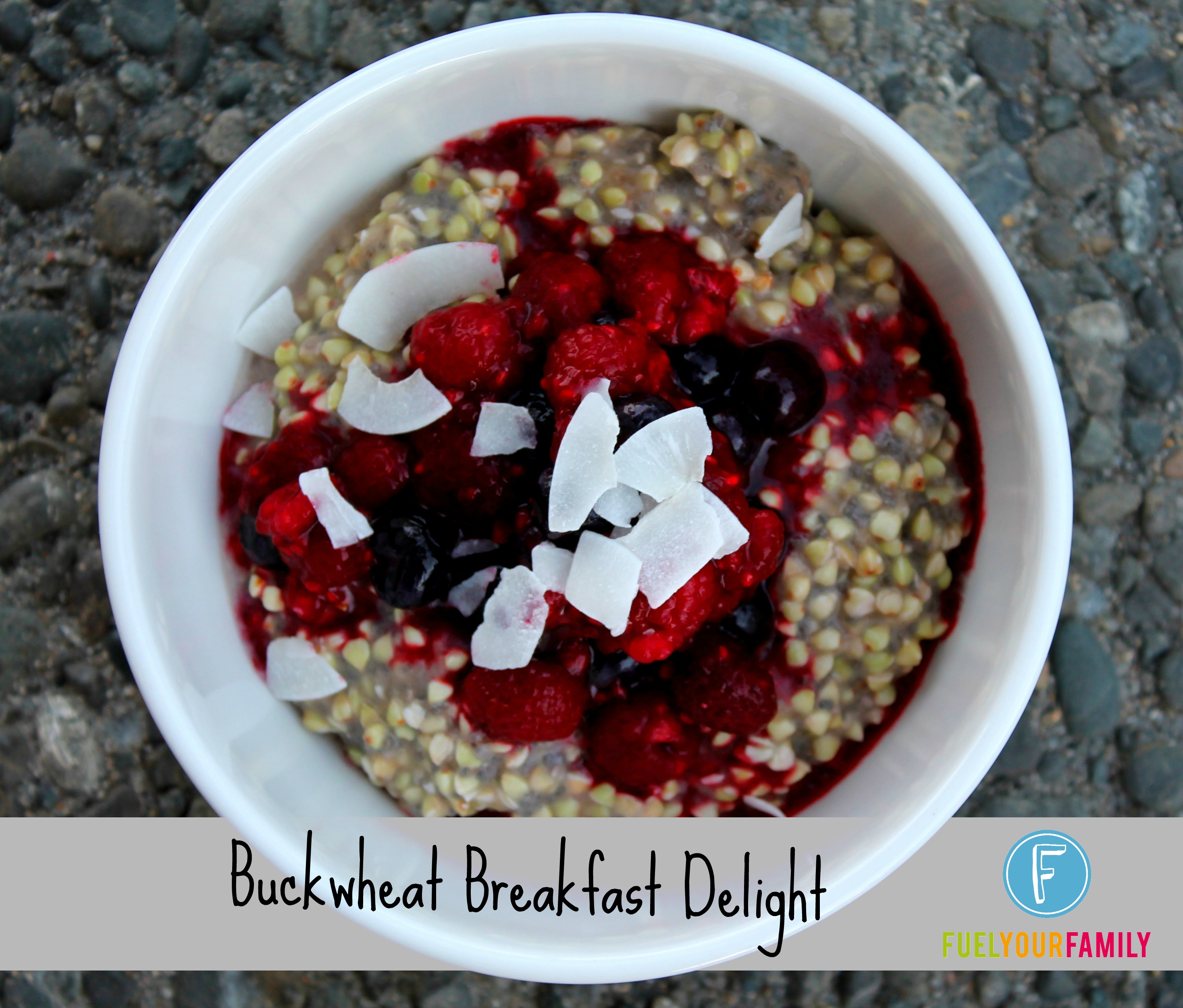 Breakfast is often my favourite meal of the day.  We very rarely have the same breakfasts two days in a row, and quite a section of my recipe folder is dedicated to breakfasts.
Like most households, the morning can be quite a busy time, getting everyone fed and out the door for school and work.  I love recipes like this one that can be prepared the night before, and served up in a matter of minutes in the morning.  I also love knowing that I am sending my precious family out the door set up for the day with some nourishing food on board.
This recipe uses raw buckwheat groats.  Despite its name, buckwheat does not contain wheat.  It is a gluten-free seed, related to rhubarb.  It is also low GI, high in amino acids and soluble fibre, and contains essential minerals such as zinc and magnesium.
If you prefer a warm breakfast then after rinsing the buckwheat in the morning you can put it in a saucepan and cover with fresh water, bring to the boil and simmer for a couple of minutes.  Then drain, combine with the banana/chia mixture and stir through to warm.  You can also make a warm berry sauce for the top if you desire.
I have topped mine with berries and coconut, but you could add nuts, seeds, granola, other fruit…

Buckwheat Breakfast Delight
This delicious breakfast can be prepared the night before, making it super easy to throw it together in the morning.
Author:
Bronwyn Hudson - Fuel Your Family
Ingredients
2 cups buckwheat groats
2 large bananas
1 c milk of choice (I used coconut milk but you could use almond, rice, dairy, or seed milks)
4 Tbsp chia seeds
½ tsp vanilla extract
1 tsp cinnamon
1-2 cups berries
Coconut flakes
Method
The night before put your buckwheat groats in a bowl, cover with water and leave to soak overnight (I leave on the bench with a clean tea-towel over top).
Also the night before mash the banana and mix well with the milk, chia seeds, vanilla and cinnamon. Put in the fridge to soak overnight.
In the morning drain the buckwheat and rinse really well through a sieve. It will most likely be really gooey, so I rinse it until all the goo is gone.
Combine together the buckwheat and the banana/chia mixture. Top with berries and coconut flakes.