Food Pouches in Review + Recipe suggestions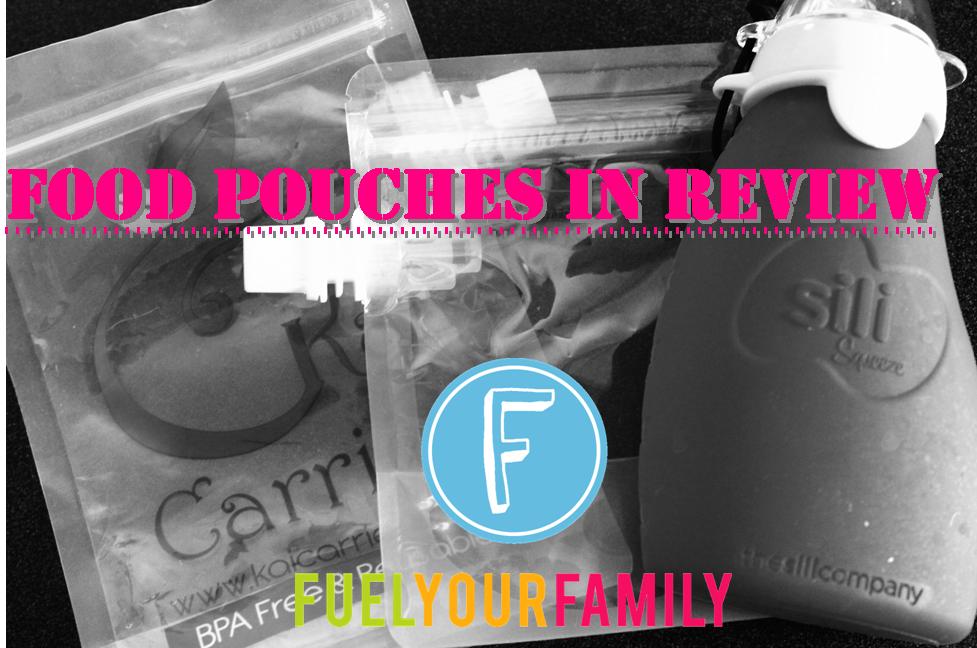 For those of you that follow me on Facebook you will have noticed from my photos of our lunchbox inspiration that I perhaps have a bit of a thing for food containers!  We have a variety of ways of packing our Real Food lunches, using lunchboxes from Tupperware, Planet Box, Sistema…
The latest addition to my food container collection is food pouches.  There is quite a trend towards baby food and fruit purees being sold in food pouches in the supermarket, but these can be pricey, are single use and therefore not great for the environment, and can't be filled with homemade food.
This is a review of three types or reusable food pouches readily available in NZ: Kai Carrier, Cherub Baby and Sili Squeeze.  We found all the pouches seal well and have had no problems with leaks.
All of these food pouches are great ways of transporting liquids and frozen yummies.  Perfect for summer, we have been freezing green smoothies and putting them in the kids lunchboxes – they keep the lunchbox cool and provide a healthy and refreshing drink during the day.  They can be filled with any combination of vegetables, fruit, poultry, meat, legumes, grain, dairy, smoothies, custard or yoghurt, as well as homemade sauces, pesto, mayo, dips etc.   With options that suit babies just starting on solids at around 6 months, through to adults, there is a food pouch option for everyone.  I have some recipe ideas and usage suggestions nearer the bottom of this post.
Cherub Baby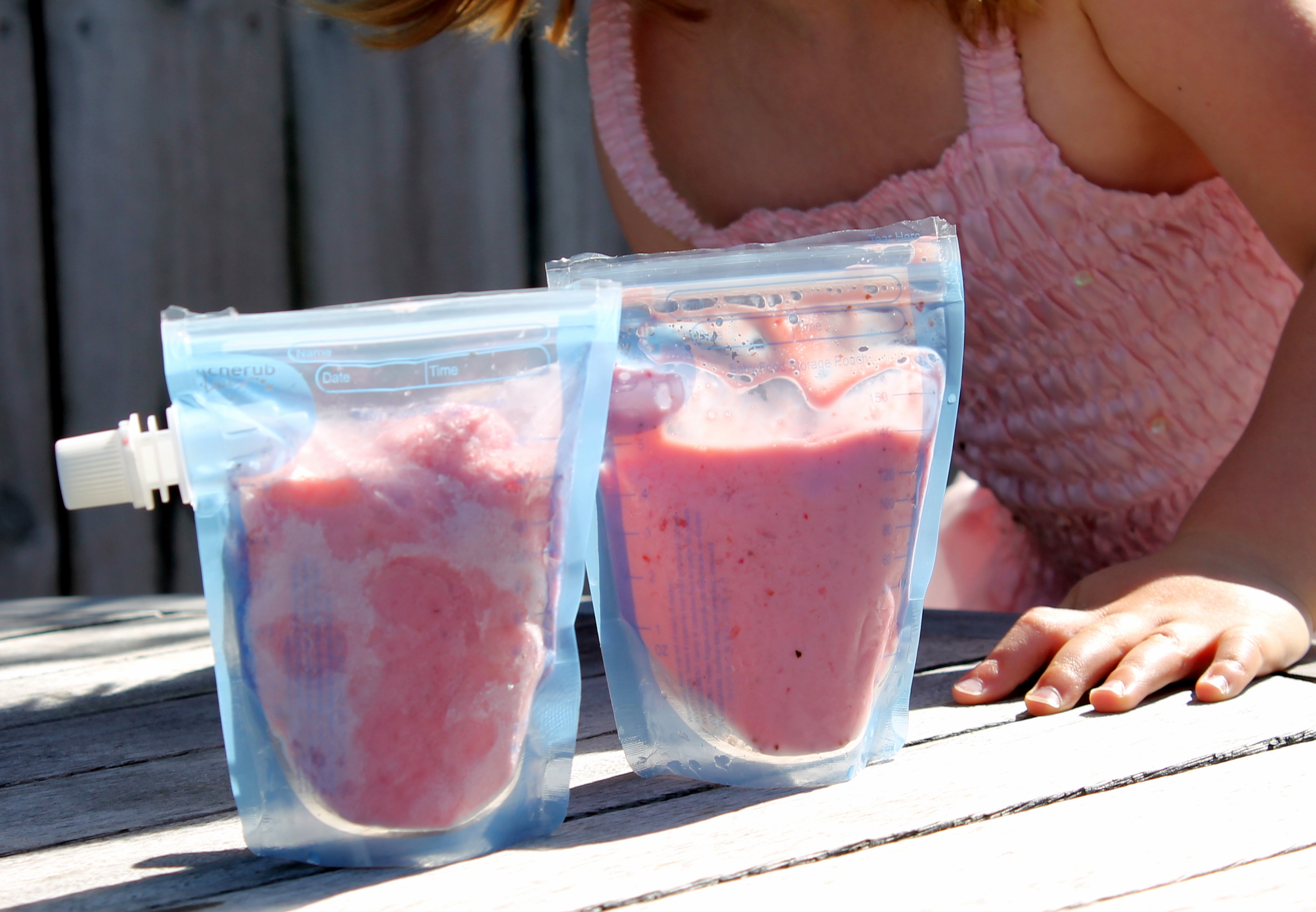 The Cherub Baby food pouches are the most affordable of those reviewed, and available from www.breastmates.co.nz (the store that has served me very well through my years of pregnancies and feeding babies – thanks Franny!).   As with all the food pouches they are leakproof, BPA-, phthalate- and lead-free, and easy to use.  They are pictured above with my 'Fit for a Princess' pink smoothie, and my little princess dying to get into them!  The picture illustrates one straight from the freezer, and one self-defrosted in a lunchbox by lunchtime.
While being the most affordable, it is also the thinnest material.  The plastic is thinner than that of the Kai Carrier, and they are marketed as 'toss and go baby food pouches'.  It does say in smaller writing that they are reusable – and we certainly have found them to be!  Each one is on its 6th or 7th use so far with no signs of needing to be thrown out yet.  The pouches contain a measuring scale in ounces and mls on the pouch.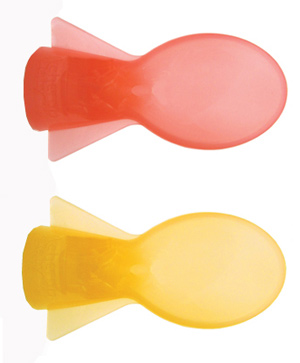 The Cherub Baby food pouches have some features that are unique: each pouches comes with a tear off safety seal, meaning the pouches are pre-sterilised and ready to go with baby food.  Also for $8.90 you can buy a 2-pack of colour-change spoons that attaches to the spout on the pouch.  You simply squeeze the pouch and the food is transported to the spoon for easy feeding of baby.
These are good value for money, making it possible to stack up on enough to have a supply of nutritious meals/refreshing smoothies in your freezer.
Capacity: 150mls
Price: 20 pouches for $24.90 ($1.25 each)
Available from: www.breastmates.co.nz
Kai Carrier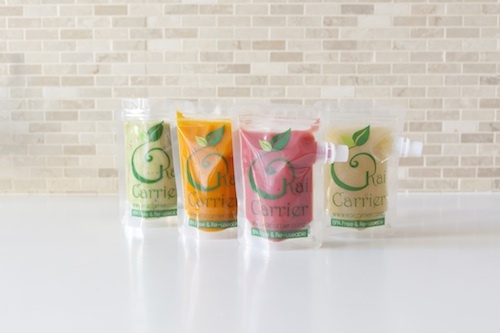 The Kai Carrier is the brainchild of Kylie Matthews, a Kiwi mum who was in search of an option for letting her baby feed herself when out and about without all the mess, and with food that she had prepared herself and knew was nutritious and free of all additives, preservatives and added sugar.  The play on words with the name is perfect – Kylie is called 'Ky' by her friends, and 'kai' is the Maori word for 'food'.
The Kai Carrier works in a similar way to Cherub Baby.  They are also BPA, Phthalates and PVC free.  The pouch is self-standing, so you simply fill it up, seal the zip-lock closure at the top and store in the fridge or freezer until ready to use.  The material used is substantially thicker than the Cherub Baby and appears to be more durable.  They do however cost more also.
The Kai Carrier has some unique features, such as the new choke-proof lid that comes standard on the 140ml pouch.  My favourite thing is that there is a larger size 300ml (10 oz) which is a perfect portion size for older children and adults.  This bigger size is also easier to wash than the smaller pouches, although all the Kai Carriers are top-rack dishwasher safe.
There are several different pack size options for buying from 3 packs to 20 packs, including a mixed size pack.
Capacity: 140ml and 300ml
Price: 20 140ml pouches for $39 ($1.95 each)
Available from: www.kaicarrier.co.nz
Sili Squeeze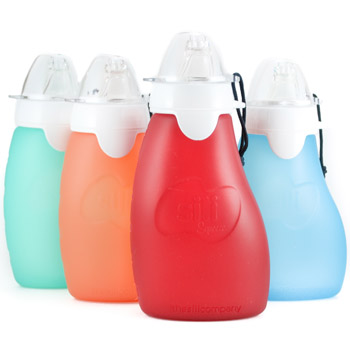 As you can see, the Sili Squeeze is a different concept in reusable food pouches.  It is made from all BPA- PVC- and Phthalate- free parts, with the main bottle being silicon.  This is understandably the most durable of the food pouches in my review, with a price tag to reflect that.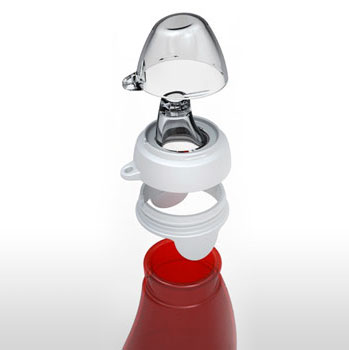 The Sili Squeeze comes with many different options including 3 sizes and two different teat options.  It comes apart easily for washing, and is the easiest of the pouches to wash.
For babies just starting on solids there is a convenient 2oz (60ml) size with a spill-proof spout.  As you progress there are 4oz (120ml) and 6 oz (180ml) sizes and a free-flowing spout designed for children aged 2+.
We used a 6oz with free-flowing spout in the review, and absolutely loved it.
This is the coolest looking of the food pouches, and is relatively new to the NZ market.
Capacity: 60ml, 120ml and 180ml
Price: from $21.95 each
Available from: click here to see NZ retailers, imported to NZ by www.littledelights.co.nz
RECIPES and USAGE IDEAS
So what did we put in our pouches:
Fit for a Princess Smoothie: kefir yoghurt, fresh strawberries, drizzle of honey
Green Smoothie: almond milk, banana, date, spinach and kale
Kiwi Delight Smoothie: banana, kiwifruit and coconut cream
Guacamole: to take to a picnic
Nut Butter Smoothie: banana, nut butter, flaxseed oil, milk of choice
Apple Sauce storage (we make our own unsweetened apple sauce with organic apples)
Green Puree: applesauce, banana and a handful of spinach.
More recipe ideas: here and here
I would like to thanks Jasmine from Little Delights, Franny from Breastmates and Kylie from Kai Carrier for providing me with sample for the review.  Please support the businesses of these fabulous fellow New Zealand mum-preneurs!
What would you put in your re-usable food pouch?  I would love to hear from you.