Zoodles with Avocado and Kale Pesto Recipe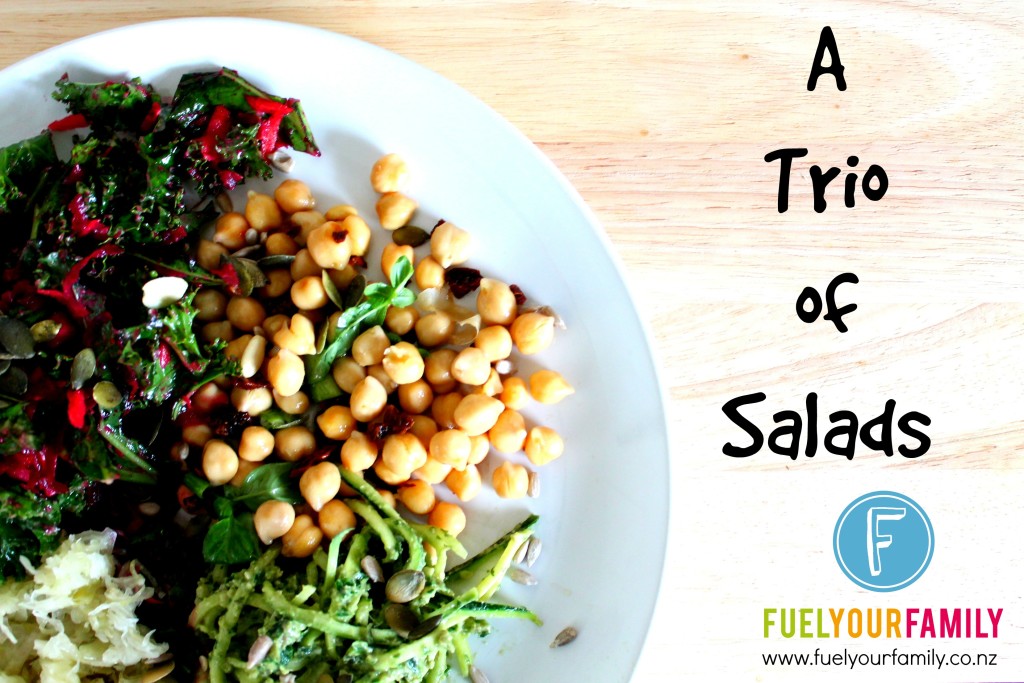 We had one of the most scrummy thrown-together lunches today – one of those 'what have we got in the house' moments.  We ended up with three delicious salads, and threw together  a dairy-free, nut-free pesto that I just have to share with you before I forget what I did!
We always have some form of green leaves in our fridge (oh how I miss picking these from our garden though!) so salad is pretty much always an option.  And now that we have a 5-litre fermenting crock our fridge has a good supply of sauerkraut.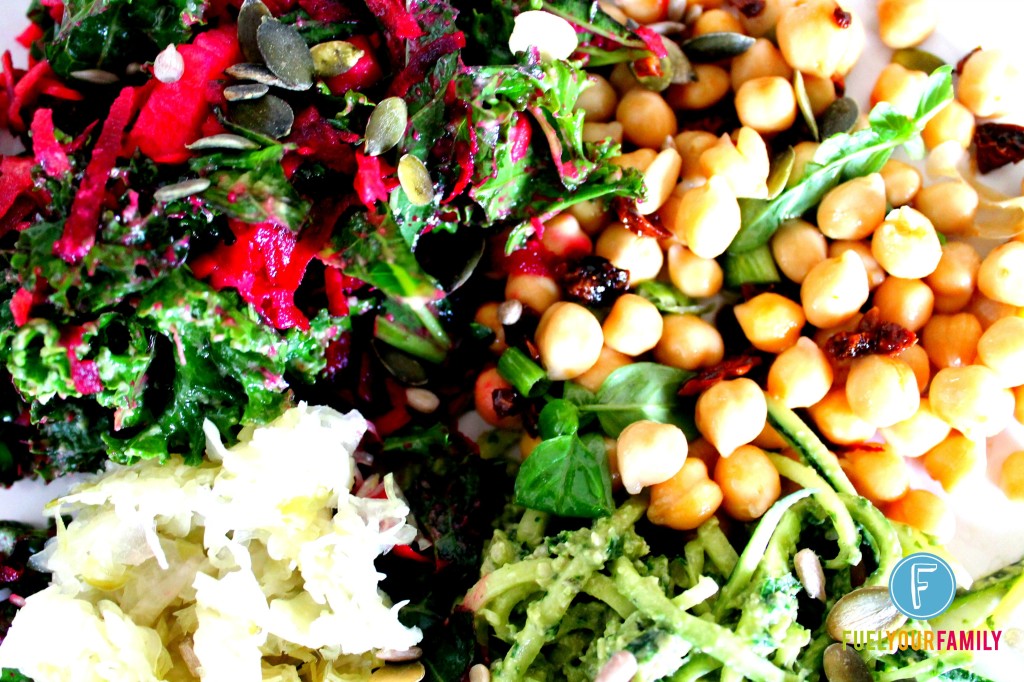 This morning I was brushing up human biology in preparation for my Masters in Science (Personalised Nutrition) that starts in January…so hubby took the kids and left me to nucleotides, epithelial tissue, stratified transitional epithelium and the integumentary system while they visited a local farm shop that I have been dying to go to.
He came back excited about finally having found somewhere that sells produce from their own farm with no plastic bags or plastic wrap in sight, as well as a vast array of locally sourced meats, honey, deli foods etc.  It has been somewhat of a challenge finding all these hidden gems in a new country, but they are well worth hunting out.
He also came home with some freshly pulled carrots and beetroot, so the first salad that jumped into my mind was one of my all time favourites: Massaged Kale and Apple.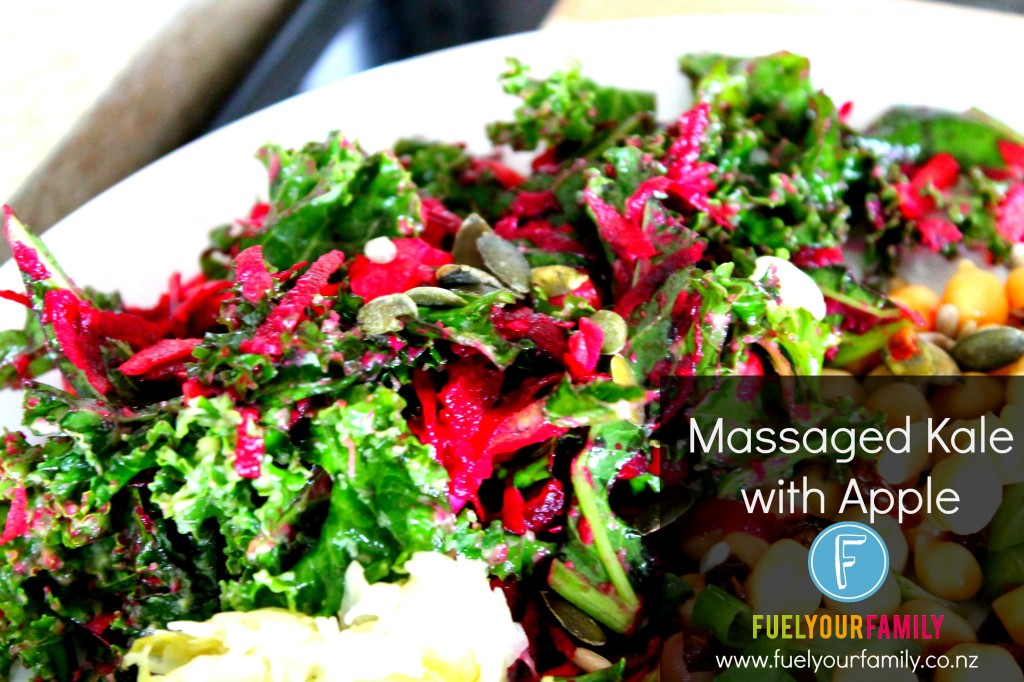 Being realistic that all four kids weren't going to be satisfied with kale salad alone – in all honesty probably only Mr 7 would be impressed with that on offer – and having one of those days that I just didn't want to face "but Muuuuuummmmmyyy…I don't liiiiiiike that" I went back to the fridge for some more inspiration.
Jackpot – I had some chickpeas that I had defrosted to make hummus last night that I never got around to making, and Miss 5's favourite salad is a very simple chickpea salad.  Add a splash of olive oil, some lemon juice, chopped spring onions, and some sundried tomatoes and she was good to go.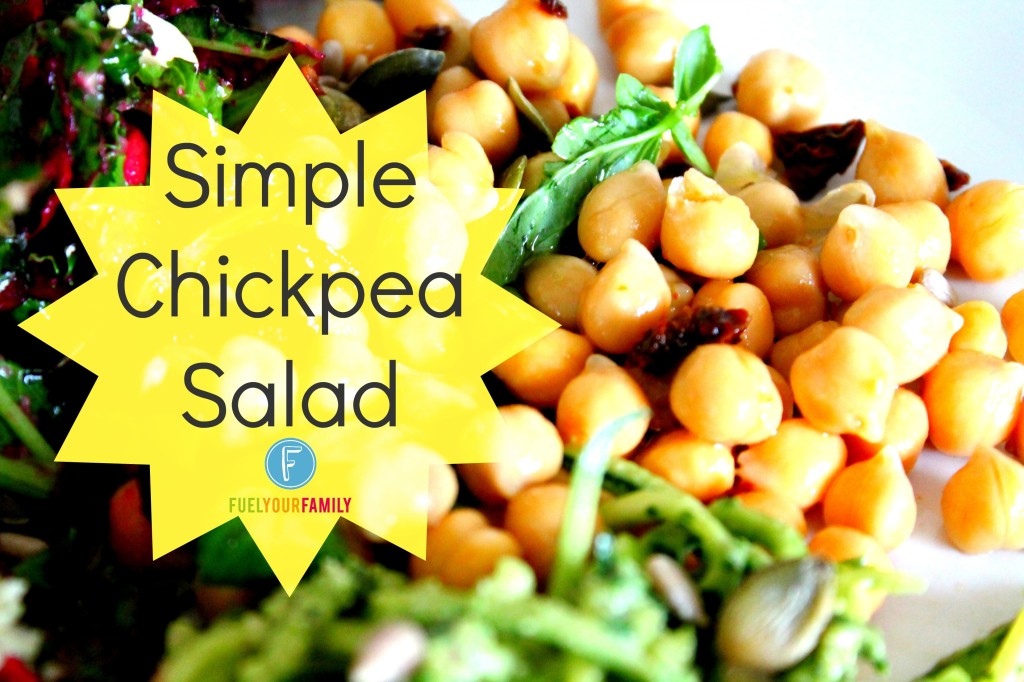 Also picked up from the farm shop this morning – locally grown zucchini (courgette) – that were actually intended for dinner Miss 5 has requested on Thursday when she becomes Miss 6: Zoodles with meatballs.  Oh well – we will have to get some more before Thursday – as I know that Miss 2 and Miss 4 will hoover zoodles and that means that everyone will have at least one thing on their plate that they will love – and I will be in salad heaven.
(I don't usually go to such effort to accommodate everyone's tastes, but you know what I mean by one-of-those days right?)
One last rummage in the fridge produced a small amount of basil, half an avocado, some more kale and half a lemon – and I had my final bit of divine inspiration: pesto!  This was my favourite part of the whole meal…possibly because I made it up on the spot and it worked.  The avocado made it so creamy, and the lemon juice and basil created such a fresh taste.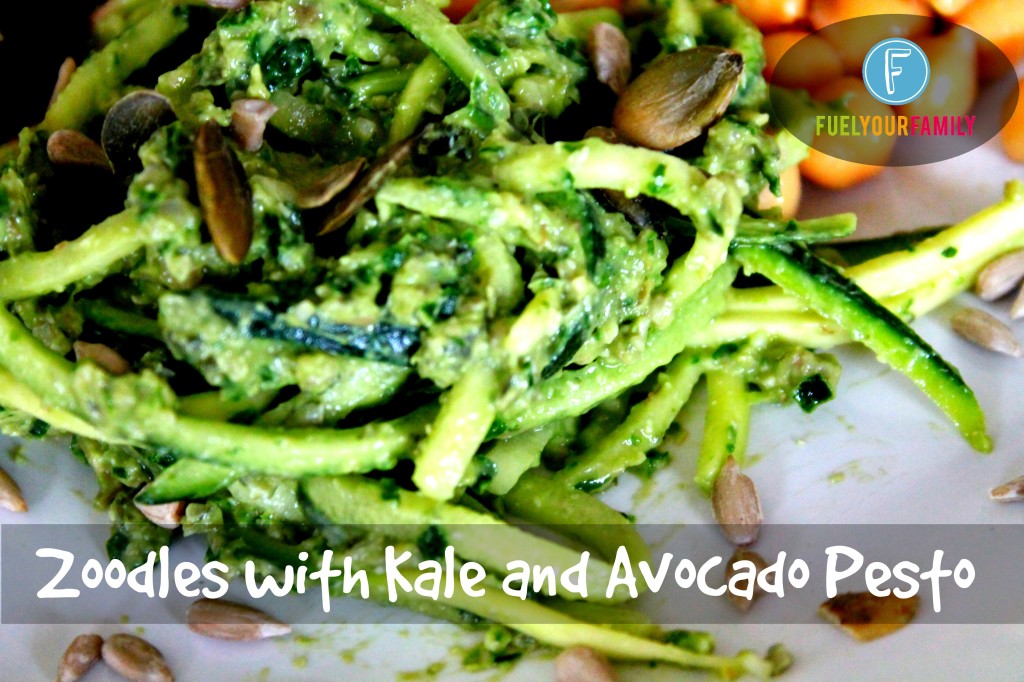 Mixed through the fresh zoodles this was absolutely amazing, so here I am sharing it with you.  6 happy tummies in our house this afternoon – and no whining at all!
Enjoy
Love Bron x

Zoodles with Kale and Avocado Pesto
Delicious creamy pesto - dairy-free and nut-free, tossed through fresh zucchini noodles.
Author:
Bronwyn Hudson - Fuel Your Family
Recipe type:
Salads; Lunch; Dinner
Ingredients
Zoodles:
zucchini/courgette - as much as you would like (we used 2 medium-sized zucchini)
1 Tbsp extra virgin olive oil
juice from ½ lemon
pinch salt
Kale and Avocado Creamy Pesto:
¼ cup basil leaves
½ cup kale leaves
clove garlic
¼ cup sunflower seeds
¼ cup pumpkin seeds
juice from half a lemon
flesh from half an avocado
pinch of salt - to taste
pinch salt
Method
Use a handheld Julienne peeler to create noodles from your zucchini/courgette.
Place in a glass bowl with and gently mix through the oil, lemon juice and salt.
Set aside.
In a small food processor place the basil, kale, garlic and seeds.
Process until finely chopped.
Add the lemon juice, avocado and salt.
Process till smooth.
Gently toss through the zoodles and serve. Best eaten immediately.