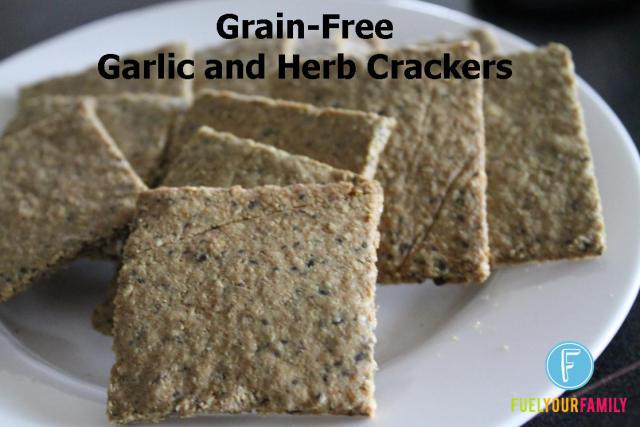 These crackers are a lunch-box staple, great with avocado or hummus spread on them, perfect for my pumpkin dip or some cheese slices for those dairy-lovers.
While they seem like a bit of work, they are actually very easy to make, and the yield makes them worth it (I get 50 or more crackers from a batch, which last us all week).  Don't be put off by all the seeds, if you don't have the linseeds or chia seeds you can substitute with more sesame seeds or use poppy seeds.
Variations include adding rosemary, raisins, 1 tsp dried onion, or 1/2 tsp kelp powder…

Garlic and Herb Grain-Free Crackers
Perfect for those who are trying to avoid grains, for lunchboxes and for scooping up dips.
Recipe type:
Lunchbox, snack
Ingredients
1 cup of sunflower/pumpkin seeds, soaked for several hours or overnight
1 Tbsp coconut oil
1 tsp sea salt
1-2 cloves of garlic
½ tsp mixed herbs
¾ cup of sesame seeds
1 Tbsp linseeds
1 Tbsp chia seeds
Up to half a cup of water
Method
Preheat oven to 180C
Drain and rinse the sunflower/pumpkin seeds and blend in a food processor with coconut oil
Add the salt, garlic, herbs, sesame and other seeds and process until well combined, drizzling in water as it mixes until it binds together but isn't too wet.
Place half the mixture into the centre of greaseproof paper on an oven tray. Place another sheet of greaseproof paper over the top, and use a rolling pin to roll out evenly. Run your hand over the top to check for even thickness. You want these to be about 3mm thick, not too thin as they become too fragile.
Carefully remove the top sheet of greaseproof paper and retain. Use a pizza cutter to neaten up the edges.
Repeat with remaining mixture until it is all rolled out (will need 2-3 oven trays). Use the pizza cutter to slice into your desired size of cracker.
Bake in the oven for 10-15 minutes, actual time will vary from oven to oven and depending on the thickness of the crackers so keep an eye on them.
Allow to cool on the tray, then break along the pre-cut lines and transfer to an airtight container when completely cool.
Serve with hummus, pumpkin dip, avocado and tomato, or your favourite cracker topping.