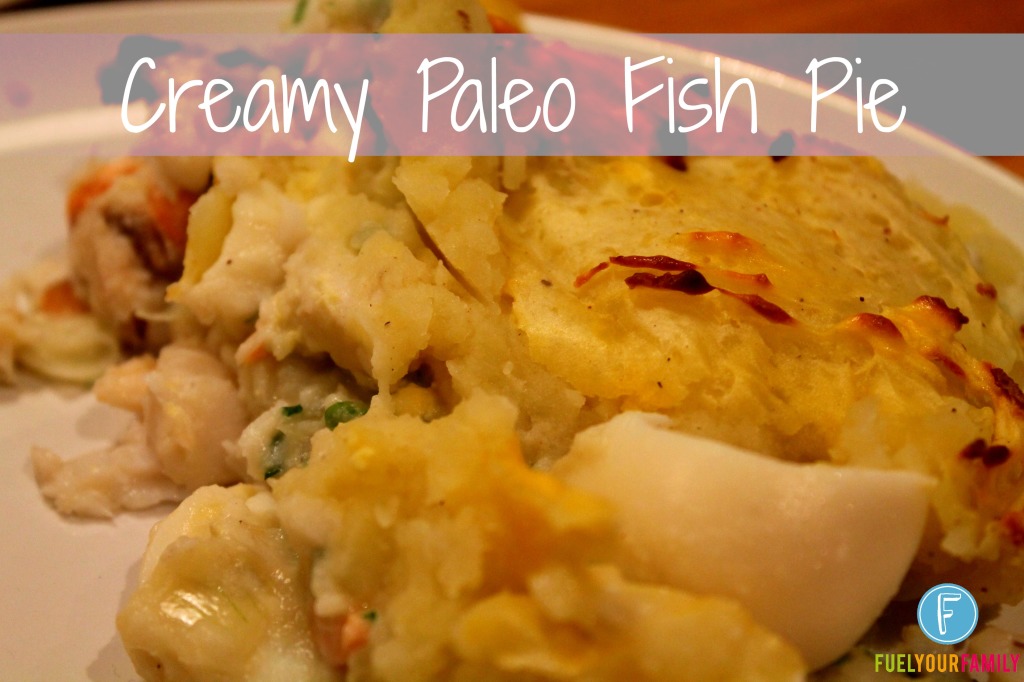 Here in the UK the cooler weather and darker days are starting to set in, and that always leads me to warming nourishing comfort food.  Fish pie is one of my ultimate comfort foods, and this creation of mine is a fish pie with a difference.
The thick creamy sauce is made from something you may not expect…any guesses?  Here is a clue:
Those who know me won't be at all surprised to discover that it is in fact cauliflower that has been used to thicken the sauce.  Most sauces are traditionally thickened using flour, but this version is so much more nutrient dense, and soooooo delicious.  I had trialed paleo fish pie recipes in the past that used almond flour in the sauce, it is just seemed grainy and didn't at all  fulfill the comfort need.  With my love affair with cauliflower growing I decided to trial making a 'white sauce' with it, and it has revolutionised my life!  I use cauliflower is so many different ways – just wait til you try my creamy chowder!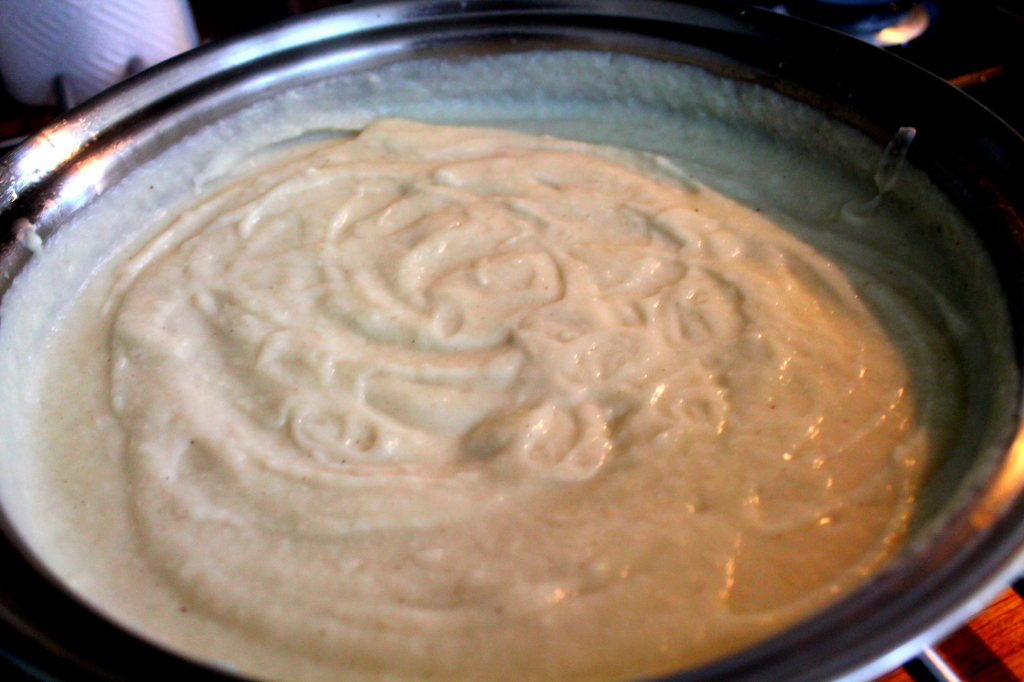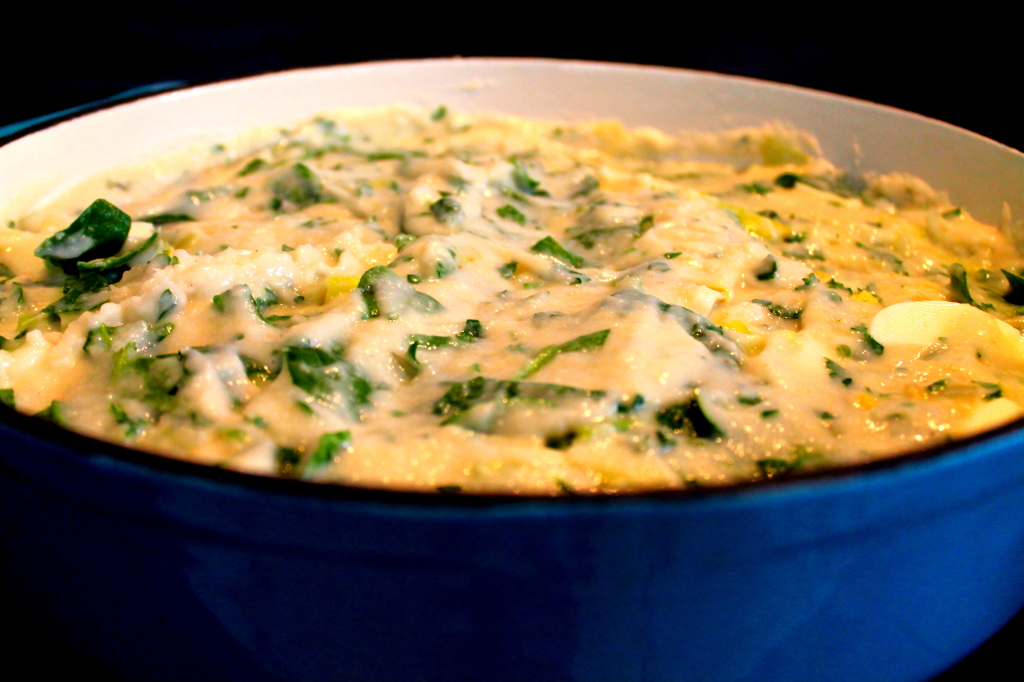 For the fish you can use whatever you like.  You can make a little fish go further if need be.  I tend to use around 800g-1kg fish, made up of a combination of a white fish, salmon, and some smoked fish, sometimes some prawns.  This makes a massive family pie that lasts us for two meals.  You can also buy fish pie mix from some fishmongers, like the mix I used today from  here.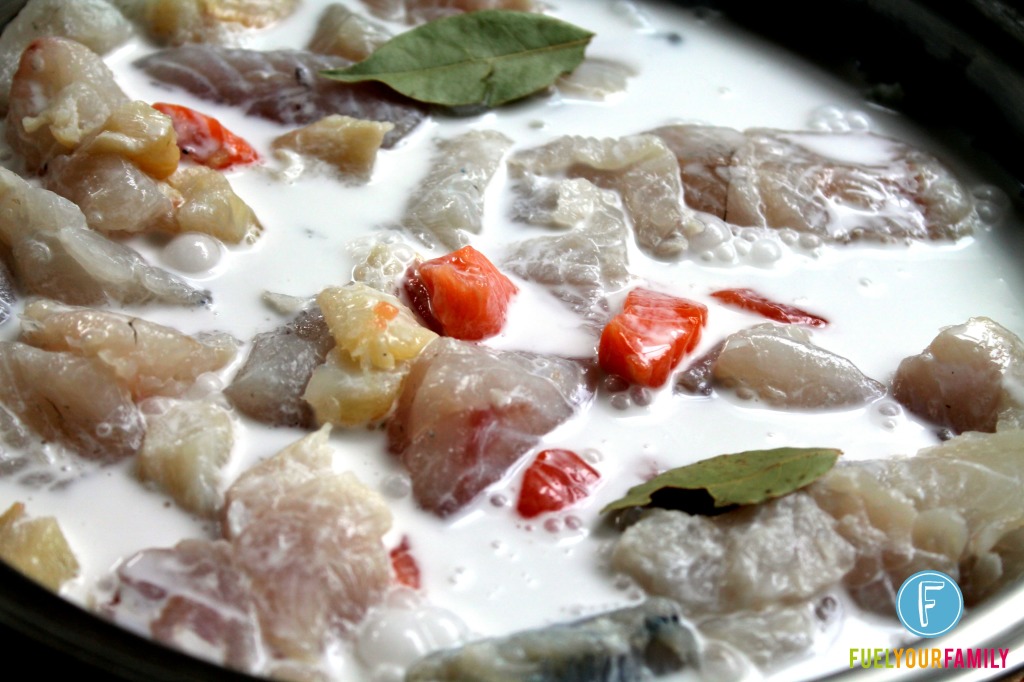 For the topping you can once again use what you like.  A cauliflower puree is nice, as is mashed kumara (sweet potato).  I have opted for the classic mashed potato topping.  My favourite way to make mash is to roast the potatoes in their jackets (no peeling, chopping, boiling required, simply a quick scrub and into the oven).  Once they are cool enough to handle, cut in half and scoop out the flesh, add a little splash of milk and salt, butter if you use it, and mash.  (I reserve the skins to make crispy potato skins with – brush with melted butter, top with bacon and cheese and cook til crispy).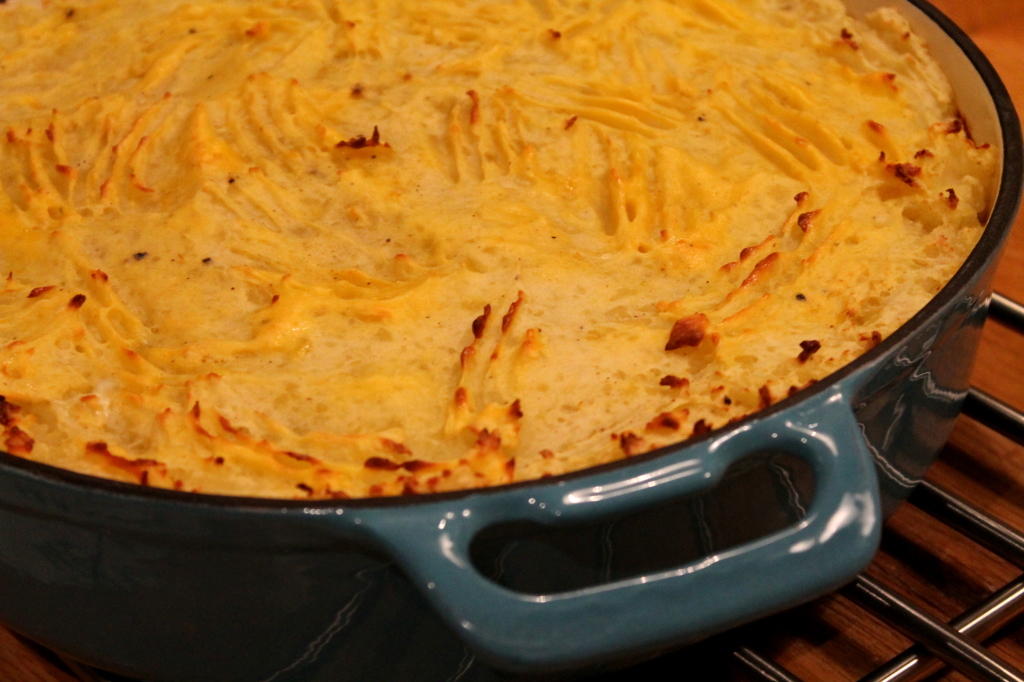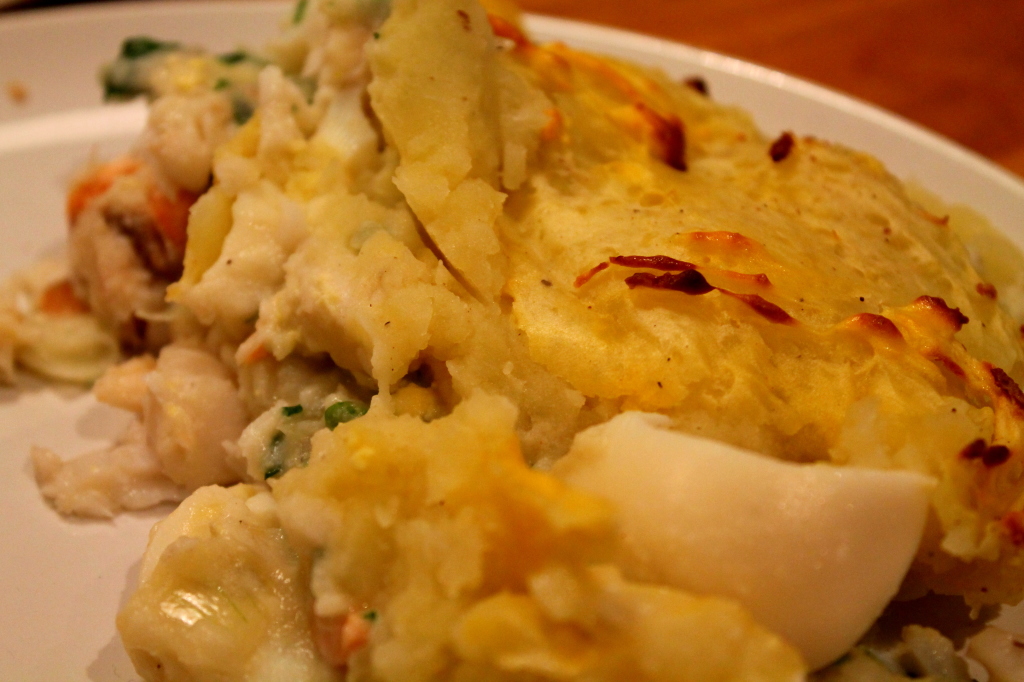 Creamy Paleo Fish Pie
This family fish pie is comfort food at its best - creamy, hearty and warming.
Author:
Bronwyn Hudson - Fuel Your Family
Ingredients
1.5 kg potato, scrubbed and baked til soft
800g-1kg fish – mix of white, salmon and smoked, and prawns if desired
800ml coconut milk
2 bay leaves
6 eggs, hard-boiled
1 head of cauliflower
2 leek, sliced
2 ribs of celery, sliced
1 onion, diced
2-3 cloves of garlic – crushed
A couple of good handfuls of spinach, roughly chopped
1 egg, for brushing the top
Salt and pepper to taste
Method
Start by baking the potato and hard boiling the eggs. I often do this step earlier in the day, or even the night before, to take the pressure off later, when I am more likely to be multi-tasking with littlies as well.
Put the fish into a pan with the coconut milk and the bay leaves. Poach the fish over a medium heat until just cooked through. Discard the bay leaf, move the fish into your oven dish, and leave the milk in the pan.
Cut up your head of cauliflower and add to the reserved milk in the pan. Cover and cook over medium heat until the cauliflower is soft.
While the cauliflower is cooking, put the onion and garlic in a separate pan with a little butter, ghee or coconut oil. Cook, stirring, until softening and then add the leek and celery. Cook for a further 3-4 mins until all is soft. Spread over the fish in your oven dish.
Slice the eggs, and arrange them over top of the leek mixture.
By now your cauliflower should be cooked. Using a stick blender, blend the cauliflower into the coconut milk that it was just cooked in, to make a thick creamy sauce. Stir through the chopped spinach and spread over the eggs in the oven dish.
Once the potatoes/sweet potatoes have cooled enough to handle, cut them in half and scoop out the flesh. Mash, along with some butter, salt and pepper and a splash of almond or coconut milk.
Spread your mash over the top of it all, and rough it all up with a fork.
The final step is to brush a whisked egg over the top of it all, and put into the oven at 180C for 20-25 mins.
Delicious served with a salad or steamed vegetables.